Who said Spanish football was losing its grip on Europe: Check out Spanish teams who have qualified to the knockout stages of the UCL.
All seven Spanish teams have made it through to the knockout stages in European competition this season.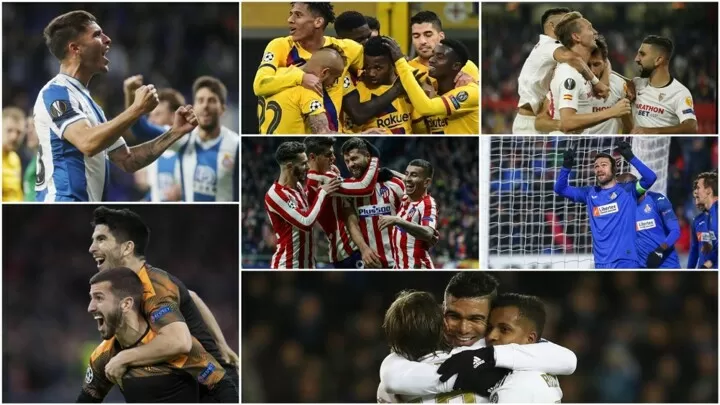 Barcelona, Real Madrid, Atletico Madrid and Valencia have progressed to the last 16 of the Champions League.
Meanwhile, In the Europa League, Sevilla, Espanyol and Getafe have made it through to the last 32.
Sevilla and Espanyol were given fairly favourable groups in the draw and passed through them with relative ease.
Getafe eventually managed to come through a group containing Basel, Krasnodar and Trabzonspor.
All four Spanish clubs have made it out of the Champions League group stages for the first time since the 2016/17 campaign.
That year, Barcelona and Atletico topped their groups, with eventual champions Real Madrid and Sevilla progressing as runners-up.
In the seasons since, Atletico and Valencia have both been knocked out at the group stage before dropping into the Europa League.
This campaign, only the Madrid clubs didn't come first in their respective groups - Real Madrid, Atletico and Getafe.
Premier League are the rivals to beat
English clubs have also matched the feat achieved by their Spanish counterparts in Europe this season.
Manchester City, Liverpool, Tottenham Hotspur and Chelsea all made it through to the last 16 of the Champions League while Manchester United, Arsenal and Wolves progressed to the Europa League's round of 32.